Losing My Voice to Find It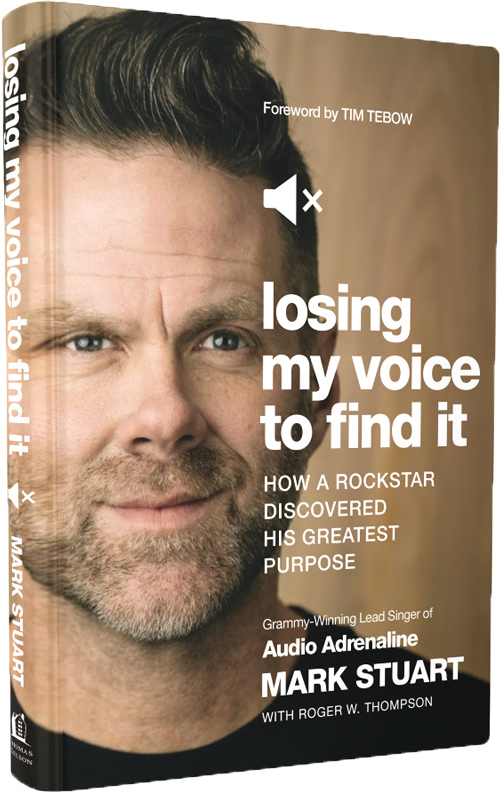 How a Rockstar Discovered His Greatest Purpose
The incredible story of a lead singer's rise to fame and his crushing fall when he lost his singing voice, his career, and his marriage--and then found a new calling more in tune with God than he ever thought possible.
Order Now!
About the Book
Mark Stuart was the front man of popular Christian rock band, Audio Adrenaline, at a time when the Christian music scene exploded. Advancing from garage band to global success, the group sold out stadiums all over the world, won Grammy Awards, and even celebrated an album going certified Gold. But after almost twenty years, Mark's voice began to give out. When doctors diagnosed him with a debilitating disease, the career with the band he'd founded and dedicated his life to building was gone. Then to his shock, his wife ended their marriage, and Mark believed he'd lost everything.
Unsure of his future, Mark traveled to Haiti to help with the band's ministry, the Hands and Feet Project. When the devastating 2010 earthquake hit, media learned he was present and sought him out for interviews. Ironically, Mark became the scratchy voice for the struggling Haitians, drawing the world's attention to their dire circumstances. In the process, Mark found a greater purpose than he'd ever known before. In this gripping, compelling new book, Mark Stuart overlays his story with passages from the gospel of John, urging his readers to listen for God's voice and to embrace his big love that calls us into a big life.