Available everywhere books are sold.
---
Amazon #1 Best Seller
for Yosemite National Park
And best seller for all Western National Parks
You are made for freedom and adventure.
Yet too much of your life is spent unfulfilled at work, restless at home, and bored at church. All the while you know that there is something more. You'll find some of life's best moments waiting for you over a campfire, on a river – even in that coffee shop or brewery you didn't know you'd discover along the way. WE STOOD UPON STARS is a travel guide to help you with the search.
In the literary spirit of well-worn tales about America's open road, this poetic, honest, often hilarious collection of essays shows how to embark on adventures that kindle spiritual reflection, personal growth, and deeper family connections.
From surfing California's coastlines, stargazing southwestern deserts, and fly-fishing in remote mountains of Montana, you'll be inspired to follow the author's footsteps and use the hand-drawn maps from each chapter to plan your own trips. There you will hear God's voice – and it may help you find what you're searching for.
---
Your friendships shape your future.
Against the backdrop of 80's surf, skate, and punk music culture, these pages are a blueprint for building a true and meaningful friendship. The deep, and sometimes hilarious stories, deal with fathers, girls, life, and death – in a true accounting of this life we live.
In between laughing and crying, MY BEST FRIEND'S FUNERAL will have you pondering your own life more deeply, and telling those closest to you how much you love them.
---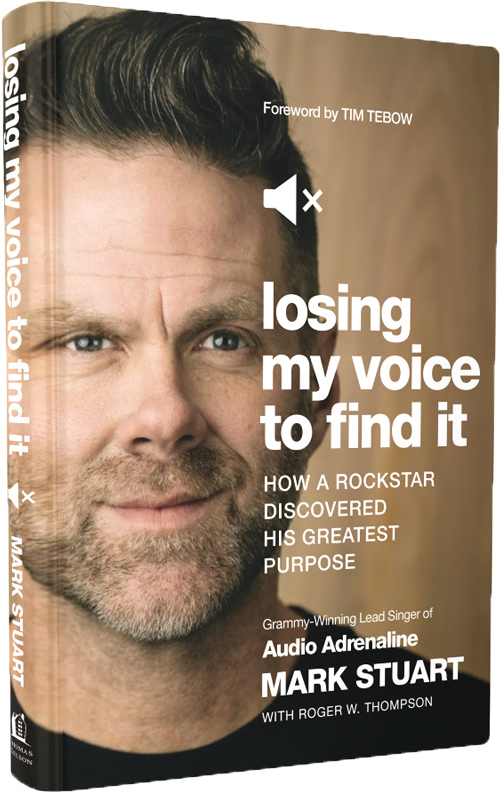 What Do We Do When Our Calling Suddenly Ends?
From garage band to Grammy-winning phenomenon, Audio Adrenaline played to packed stadiums, arenas, and festivals as Christian music rose in popularity. The founder and front man, Mark Stuart, believed he was living out God's calling. Then his voice began to falter. Diagnosed with an incurable vocal disorder, Mark's voice would never return to normal. Everything he had worked for and fought for was being taken away. Struggling to understand God's plan, Mark no longer could sing songs of hope—he could barely speak at all.
With his life unraveled, Mark focused on serving the orphan and abandoned children of Haiti through the ministry the band had founded. After surviving the 2010 earthquake that devastated Haiti, Mark became the scratchy voice for struggling Haitians, drawing the world's attention to their dire circumstances. And somewhere in the rubble, Mark found a new purpose.
LOSING MY VOICE is the poignant and gripping story of one man seeking harmony, hope, and redemption—and realizing that being in tune with God's call makes the best music of all.
"An earnest journey" offering "insights into life"
where "humor is the highlight".

– From Publishers Weekly review
of We Stood Upon Stars